Discrimination and racism on the part of the police, repression of people's movements, migrants hunting, tracking down of homeless people, widespread filing of personal records… It is most urgent to get organized and denounce the security logic. The Stop Repression campaign has been mobilizing against police violence and state repression for eight years now. We hope many of you will join us in the streets of Charleroi on March 15 for the International Day Against Police Violence!
Stop repression of migrations!
Subject to a repression organized at the highest levels of the state, the only crime of refugees and undocumented people is to look for a better future. They are arrested with brutality and placed in closed centers pending deportation. Closed centers are real prisons, and detention conditions are so bad that some migrants attempt to take their own life. Nowadays, even families with children can end up in a closed center. Nobody is spared by those racist security measures taken by the authorities.
Solidarity is also criminalized: legal proceedings against people who host them, violence against citizens who legally film arbitrary arrests. Migrants hunting is carried out to the detriment of mankind, the rule of law and solidarity among peoples. It sometimes ends up in a tragic bloodshed, like on 17 May 2018 when a police officer, still free today, killed little Mawda. To give itself the tools to implement its inhuman policies, the current government decided to build three new centers, including one in Wallonia, in Jumet. Faced with the state's headlong rush, let's demand the closure of all closed centers, the regularization of all undocumented people, and the freedom of movement for migrants.
Stop repression of people's movements!
We have seen and experienced the spectacular repression against the "yellow vests" in France and Belgium. Prohibition to demonstrate, arbitrary arrests and police violence are the means used by the state to silence people's movements. Preserving the power of the market, of business and of trade takes precedence over the fundamental right to demonstrate and to express one's opinion. We firmly reject the repression of activists in demonstrations and the harassment of those who question a society as unequal as ours. This authoritarian policy is a danger to any democracy. A society that cannot be questioned is a dying democracy.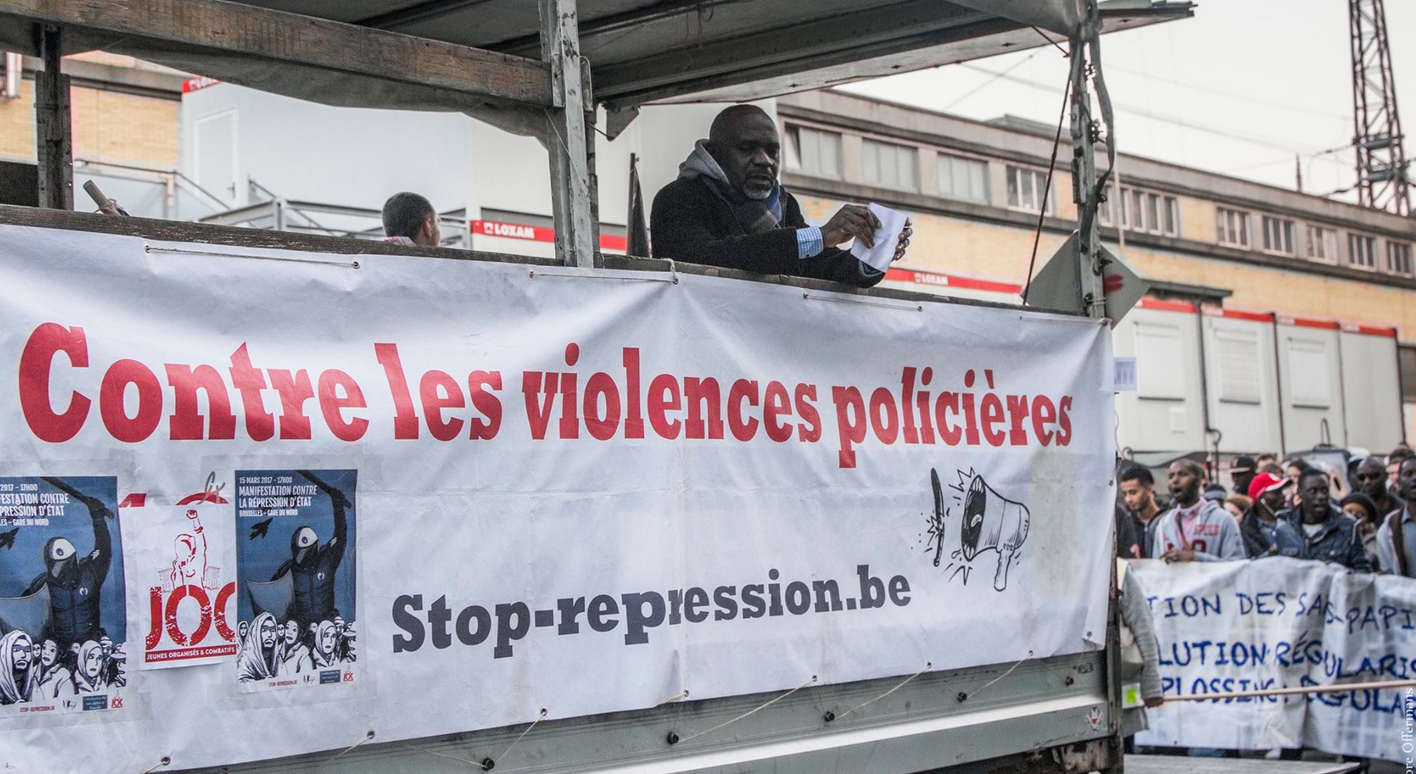 Stop repression in neighborhoods!
Reports from young people who are harassed by identity checks and police humiliations have considerably increased. Many studies show it: people who are migrants or with migrant background are victims of the power granted to the police. Police repression in the neighborhoods, far from being isolated cases of abuse, is the result of a colonial management of law enforcement. This repression sometimes even hides behind wacky schemes: the "Cell for troublesome youths," set up by the city of Charleroi in close partnership with the police, is a test project implemented in the working-class neighborhoods called Europe (Châtelet) and Rambulant (Gilly). The cell, whose name irrevocably shows the growing stigmatization of working-class youth, is nothing but a pretext to file information on working-class young people with the complicity of neighbors. Let's unite to take action and denounce this type of practice!
Our security is social!
Rather than questioning the unequal engineering of our society, the governments' only response is related to security: more police officers, more cameras, more repressive laws, more violence. The baton policy, however, has never allowed to solve social issues or to reduce violence in society. Crime will remain a problem as long as a system based on exploitation and inequality will be kept alive artificially. In recent years, those who pretend they care about our security have again and again dismantled the solidarity mechanisms and left those in precarious situations bear the burden of the crises they generated. It is important to bear in mind that our first security is social security. We should fight all those who want to dismantle it.
All of us in the streets of Charleroi!
Let's meet on 15 March 2019 to demand the end of repression. Faced with state violence, let's reject the fear and division it generates! Change can only come from our capacity to unite and help each other to carry out the struggle for a future free of racism, repression and exploitation.
The stop-répression.be Campaign
The International YCW has decided to conduct solidarity actions against police repression on young people of the world. This is why on 15 March 2019 we will march together with the activists in the streets to shout: Stop police repression on young workers and on society in general!